Setup 2007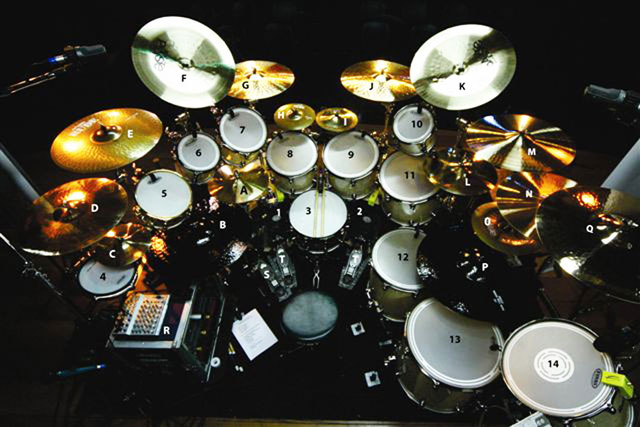 DRUM Mapex Orion Antique Ivory "PsychOctopusKit" 2007
1. Bass Drum 22"X18"
2. Bass Drum 22"X18"
3. Black Panter Snare Walnut 14"X8" (Prototype)
4. Staff Drum Pad VMS-9
5. Deep Forest Snare 10"X4"
6. Rack Tom 8"X8"
7. Rack Tom 10"X09"
8. Rack Tom 12"X10"
9. Rack Tom 13"X11"
10. Rack Tom 8"X7"
11. Rack Tom 14"X12"
12. Floor Tom 16"X16"
13. Floor Tom 18"X16"
14. Floor Tom 14"X14" (with trigger)
Paiste Cymbals
A. Signature Heavy Hi-Hat 14"
B. 2002 Rock Bell Ride 24" (black custom)
C. Splash Signature 10"
D. 2002 Wild Crash 18"
E. Rude Thin Crash 19"
F. Signature Heavy China 18"
G. 2002 Rock Crash 17"
H. Splash Rude10"
I. Splash Signature 8" e Splash Rude 10" (staked)
J. 2002 Rock Crash 18"
K. Signature Heavy China 18"
L. Signature Sound Edge Hi-Hat 15"
M. Signature Power Crash 18"
N. Signature Full Crash 19"
O. Rude China 14" (custom)
P. 2002 Rock Bell Ride 24" (black custom)
Q. 2002 Wild Crash 20"
R. Rack de periféricos com direct box, mesa de monitoração, fonte de alimentação, módulo DDrum 4se e equalizador Cilclotron TGE 2313 XS
S. Hi-Hat Stand DW 9000
T. Pedals DW 5000 Delta Accelerator
Rack: Gibraltar Road Series Model
Drum Heads: Evans
EC2 Coated toms and floor toms, EQ 4 on the bass drum, Power Center on the snare 14" e Genera Coated on the snare 10". G1 Resonant on the botton of toms and floor toms and Haze 300 on the botton of 14" and 10" snares.
Microphones: Audio-Technica
AE 2500 Bass Drum, ATM 35 on toms and floor toms, ATM 23 Snare botton and top 14" and 10", AE 5100 hi-hat and ride cymbals , AE3000 over heads and MBK3 drum clinics voice.
Sticks: Pro-Mark
Autograph Model Aquiles Priester
Triggers: Power Shot by Staff Drum
Monitor system: Ciclotron
Console Mixing Vega 2, 1 Ciclotron Titanium 700A and 1 Ciclotron Sub 600
Urban Boards: Drummer Shoes (PsychoShoes)
Shred Cases: Cases